Why not sitting healthier?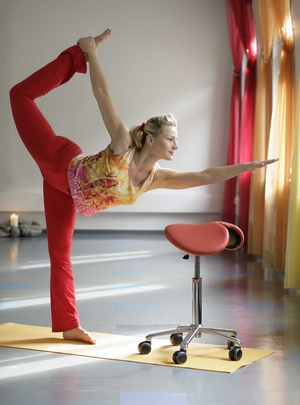 Did you know, that many people spend up to 13 hours each working day sitting on a chair?
The human body is not designed for this burden, which leads to a variety of ailments such as
Back pain
Tension
Circulatory problems
Lack of energy
These so-called "Sitting Disorders 'SD'" are having at modern times a great influence on our health.

The company Salli was founded over 25 years in Finland. Since then, the principle of ergonomic seating has been constantly refined and perfected.
The higher, saddle-like seat straightens the body, the natural curvature of the spine is maintained.

The result:
You sit upright and relaxed
Your back muscles will be strengthened
You breathe deeper and have more energy.
Legs and abdomen have better blood flow
The divided seat prevents heat building up and pressure on the genitals
Moving on and with the chair is easy - you can easily stretch out for objects.
Extensive background information on healthy sitting and the mode of action of Salli saddle chairs is available here.

The Salli saddle chair can be used very diverse: In the office, in hospitals, in industry and in many other areas.
On this page you will find the advantages and characteristics of individual Salli models, as well as individually attachable extensions and accessories. We want to help you designing your ergonomically ideal workplace. If you have any questions, don't hesitate to contact us, we are looking forward to assist you!