The Classic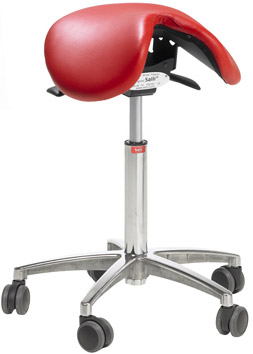 This model started it all. The basic model was created when finnish inventor Veli-Jussi Jalkanen nailed a saddle to a chair, creating the first saddle-chair. His back-problems disappeared and he went on developing saddle-chairs. The Classic has its roots in the concept of earlier models.
Nowadays, after 20 years of research and development, we recommend for our male customers only our divided seats (which we use on all other models), to prevent problems with the genitals. However, for women this chair is still very well suited and also very popular.


Good all-round saddle chair for women. Not recommended for men except for short periods of time.
A1 or A2-quality leather (16 colours).
Also available in ESD fabric, ESD leather or artificial leather.
Hand controlled height adjustment with gas spring.
Gas spring colour chrome or black.
With inclination mechanism.
Saddel chair's total weight 10,5 kg, seat only 7,5 kg.
Solid seat.